Construction, operation and maintenance of an energy colossus in the middle of the desert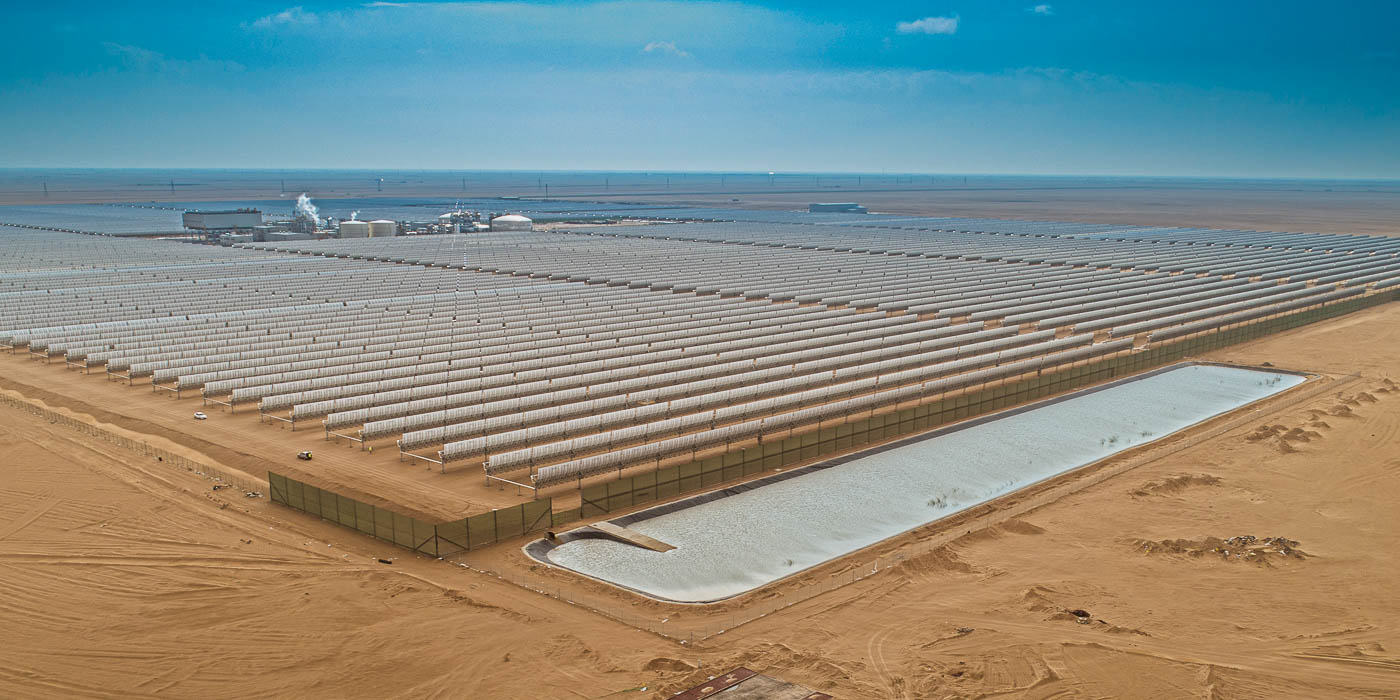 The Shagaya solar thermal power plant in Kuwait has been a great challenge for TSK, from its construction to its current operation and maintenance phase. The magnitude of the project, together with the special environmental conditions of the region, demanded the highest levels of involvement from the entire Company in order to overcome the continuous challenges.
The plant was the first of its kind in Kuwait and one of the first to be developed in the GCC countries, providing green energy for the future and helping to meet Kuwait's expectations in its renewable energy development plans.
The Shagaya Renewable Energy Complex, where the plant is located, was created to meet 15% of Kuwait's energy demand by 2030. Specifically, the Shagaya solar thermal plant produces 180 GWh/year, avoids the emission of more than 81,000 tons of CO2/year and produces the energy equivalent to the consumption of 50,000 homes.
All the numbers of this project are superlative, starting with those that speak of its beginnings, in the spring of 2016, with the conditioning of the 250 hectares of land and the movement of more than 1 million cubic meters of sand.
The extreme weather conditions resulting from its location in the Salmi desert, forced to adapt the design and execution of the plant to ensure its life span up to 25 years, which involved a huge effort by each and every one of the departments of the company: Engineering, Quality, Purchasing Logistics, Construction, PEM, and all the work equipment, to ensure proper coordination in terms of Health and Safety, Quality, Social Integration, Methodologies and execution Sequences, of more than 135 subcontractors of different nationalities and cultures involved.
After two years of difficulties being overcome, the project was successfully completed, meeting the established deadlines and achieving that the electricity production generated by the plant is above its guaranteed value.
The Operation and Maintenance team then picked up the baton, and began a complete O&M of the plant, which included in its scope the full insurance of the plant, security and supply of all consumables including 100,000 m3 water, diesel and nitrogen, moved by truck from the outskirts of Kuwait City to Shagaya, in the middle of the desert.
The plant has facilities for housing our entire team, made up of people from India, Pakistan, Egypt, Morocco and Spain, who live closely together in a professional and personal environment confined to a plant located in the middle of the desert, with the additional challenge that this entails.
Today, in addition to achieving production objectives, progress is being made in developing a solid set of work procedures and in applying new technologies and developments by collaborating with the IT and R+D+i departments.