Sustainable infrastructures
Through its subsidiaries ESERSA and CUASAR, TSK carries out all phases in the development of sustainable infrastructures that favour energy transition and decarbonisation.
It identifies the places with the optimal characteristics for the development of the projects, both in terms of location and regulation.
Locates and negotiates the concession of the land directly with the owner.
Studies and analyzes the interconnection of the plant with the electrical network.
Manages the environmental permits, licenses, easement of passage or any other requirement necessary for construction and operation.
It carries out the studies (solar, hydraulic, geotechnical resources..) and project engineering.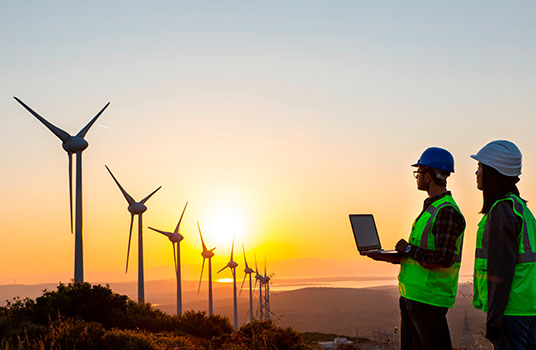 Financing
TSK has extensive experience in project finance for industrial and energy plants.
It designs the structure of the project, taking into account legal, fiscal and financial aspects.
It optimizes the most efficient capital structure, both with financial institutions and investors.

Engineering and Construction
TSK has a track record of engineering and construction of industrial and energy plants, both for third parties and in its own developments, which exceeds 1,000 installations and 25,000 MW. Thanks to this experience, it is an undisputed international reference, developing its projects on 4 continents.
The experience acquired and accumulated during almost 40 years of activity, has allowed TSK to establish trustworthy relationships with the most recognized and innovative suppliers worldwide, resulting in the construction of renewable energy plants of the highest quality and at the lowest cost.
The service provided by TSK includes, in addition to engineering, construction, mechanical assembly, electrical assembly and plant start-up, with a team of the most qualified professionals in the sector.
Operation and Maintenance
TSK is one of the main leaders in the provision of services within the sector thanks to the experience acquired after 35 years of activity

Operation and maintenance
Its own control center
Preparation of periodic operation, maintenance and exploitation reports
Proprietary system for remote supervision and monitoring
Proprietary system for measuring and analyzing thermographic images through drones
Integrated data management, storage and backup systems
Guarantee and insurance claims